Miniature 5-Piston Pumps and Cartridge 3-Piston Pumps
---
Now Available from QCC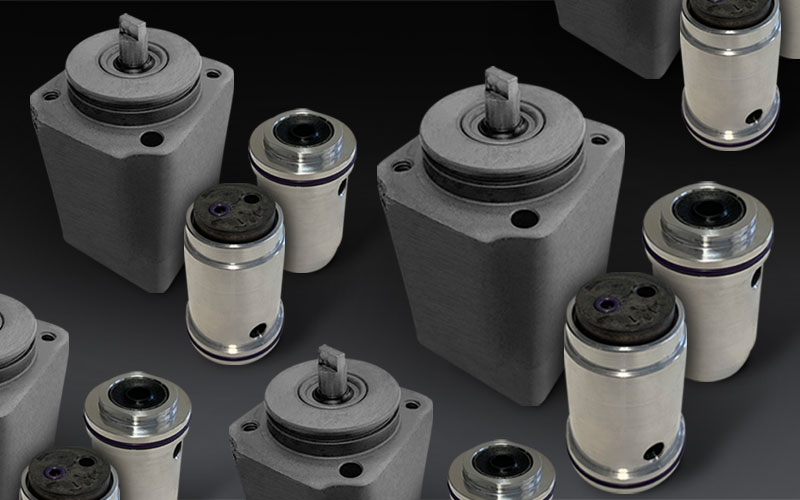 QCC, a manufacturing services provider that specializes in providing competitive and cost-effective continuity of supply for essential legacy and non-core product lines, has taken over the manufacture of the Parker Hydraulic Pump and Power Systems (HPS) Division Oildyne line of Mini 5-Piston Pumps and Cartridge 3-Piston Pumps. This includes Miniature Piston Pumps with model codes beginning with HRS, HSL, HRT and HLT and Cartridge Piston Pumps with model codes beginning with CL.
Production by HPS ceased June 3, 2022. Open orders at HPS were transferred as of June 10 and were provided to QCC for their fulfillment; however, to complete this transfer, new purchase orders must be issued to QCC. In this process, QCC will attempt to hold the original ship dates as scheduled from HPS.
These original equipment part numbers are now in production at QCC using the same equipment, tooling, assembly and test procedures that Parker formerly used to manufacture these product lines.
Miniature Piston Pumps: Pumping Efficiencies up to 90% Allow Effective Use of .156 to .865 cc/rev Piston Pumps at Pressures to 276 bar (4000 psi)
These reliable and highly efficient piston pumps provide fixed-displacement power in unique miniature design. Engineered for open-circuit systems, they bring operations flexibility. Compact Piston Pumps handle a variety of fluids including hydraulic oil, brake fluid, low viscosity fluids and non-water-based fluids. They also feature cast iron and aluminum construction for added durability. Multiple pumps, special configurations and bidirectional pumps are available upon request.
Cartridge Piston Pumps: Compact Fluid Power Redefined by the Oildyne Division
The cartridge piston pump raises the standard for compact fluid power. This three-piston cartridge style pump is an efficient, fixed displacement pump that provides high performance at a very economical price. Pressure ratings up to 276 bar (4000 psi), driven speeds up to 5000 RPM, and the ability to provide a variety of seal types make this the solution to unique applications. This uni-rotational pump is capable of pumping non-water-based fluids ranging in viscosity from solvents to thick fluids.
The three-piston cartridge pump maintains the performance and flexibility of the Oildyne five-piston, standalone pump while reducing the overall package dimensions.
Product applications for these miniature piston and cartridge pumps includes the following industries: automotive, marine, medical and military.
For complete technical specifications visit: Miniature Piston Pumps 5 Piston & Cartridge Design
Please contact QCC, LLC, for sales and support of the Miniature 5-Piston and Cartridge 3-Piston pump product lines at:
QCC LLC
9501 W. Winona Ave.
Schiller Park, IL 60176
Contact: Brian Angioletti, Sales Manager
Phone: 708-887 6241
Email: brian@qccorp.com
or
Contact: Simone Morris
Phone: 708-887-6282
Email: Simone@qccorp.com